Fishing Guide Tom Neustrom Gets Results
If you're planning a guided fishing trip in Minnesota, there are some important qualities to look for in your guide service. The best fishing guides truly love the sport, exhibit great patience with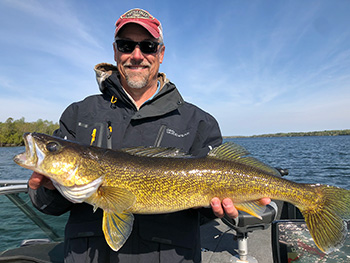 beginners, have expert knowledge of the area and its fisheries, and, of course, are unsurpassed when it comes to finding fish. Tom has all of these qualities and is great fun to be on the water with. Even if the fish aren't cooperating, you'll enjoy your day in the boat with him.
Most of Tom's first-time clients come to him to learn how to fish better, or to have him teach them the structure on an unfamiliar lake. If you want to get your kids hooked on the sport of fishing, let them experience the excitement and gain the knowledge that spending a day on the water with a professional guide can give. Tom is also very adept at helping you make a great impression with your biggest client. Schedule a trip with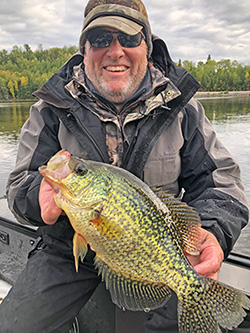 Tom and find out why his customers schedule return trips year after year!
The Best Equipment for your Comfort and Safety
While on the lake with Tom you'll fish comfortably out of his new 2023 Lund 2075 Pro-V with 300hp Mercury ProXS motor and dual Minn Kota trolling motors – an Ulterra on the bow and a Vantage on the back with a Minn Kota 12-foot Talon shallow water anchor also on the Lund's stern. Tom uses a Humminbird Helix 12 and Helix 10 combined with LakeMaster marine charts datacards programmed with detailed 3D underwater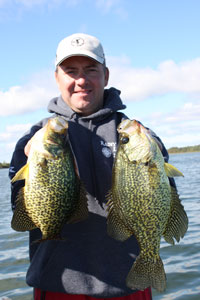 map views, aerial photos and current data. For the safety of his clients Tom uses on-board weather radar, marine band radio and a cellular phone. He provides quality St. Croix rods, Daiwa reels, life jackets, all bait and tackle, fuel and some transportation if needed.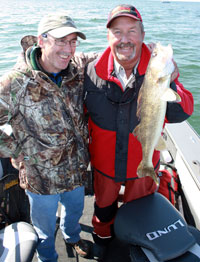 Tom's boat will comfortably fish up to 3 anglers. You only need to bring your valid Minnesota fishing license, rain and/or cold weather gear, camera and a cooler with food and beverage. Since Tom works hard to give his clients a competitive fishing edge, he respectfully asks that you leave your own GPS units at home.
Guided Fishing Trip Rates
Rates for a full day or half day guided fishing trip are reasonable and include bait, fish cleaning and packaging services as well as use of Tom's boat, fuel, fishing equipment and safety gear. Clients need only bring their valid Minnesota fishing license, rain and/or cold weather gear and food & beverage.
2024 Guided Fishing Trip Rates

Number of Anglers

Full Day Trip (8 hrs)

Half Day Trip (5hrs)

1-2 People

$550

$400

3 People

$650

$450

Tag Boats

$150 per boat

Deposits:
A $250 deposit is required to hold your reservation for a guided fishing trip with Tom. For multiple day guide trips, a $250 deposit per half or full day trip is required. For multiple boat trips, a $250 deposit per boat per trip is required. Deposits are non-refundable.
Availability & Contact Information: To check availability for a full day or half day guided fishing trip with Tom, please use the CHECK AVAILABILITY FORM.
(Tom prefers to handle guide trip requests via the check availability form, but you may also contact him via the phone number or email address on the right-hand side of this page.)

Payment:Please make your check or money order payable to: "Minnesota Fishing Connections" and mail it along with a filled-out Reservation Form after you've locked in your fishing date(s) with Tom (the mailing address is on the top of the reservation form). Please Note: The date of your full or half day fishing trip is not guaranteed until your deposit is received. Gratuities are accepted and appreciated.
When Tom isn't available for the fishing dates you want…
If Tom isn't available to guide you on the dates you need, click here to view Tom's hand-picked guides he recommends to those he can't take on a guided fishing trip. These are true professionals and you are certain to have an enjoyable day on the water with any of them.

Guide Information
Guide Name: Tom Neustrom
Guide Sponsors:  Lund Boats, Mercury Marine, Minn Kota, Humminbird, Cannon Downriggers, St. Croix Rods, Daiwa Reels, Northland Fishing Tackle, ShoreLander Trailers, StrikeMaster Ice Augers, L&M Supply, Wave Wackers, Yeti, Costa Del Mar, Fish Monkey Gloves, Lindner Media Productions, Wired2Fish, Gemini Sport Marketing, Wellman Sport Marketing, Ferguson-Keller Sport Marketing, Johnson Outdoors, and Minuteman Press.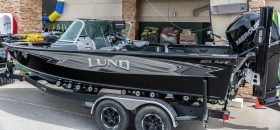 Watercraft Used: 2024 Lund 2075 Pro-V with a 300hp Mercury ProXS motor, a Minn Kota Ulterra trolling motor, Minn Kota Talon shallow water anchor and dual Humminbird electronics. Comfortably fishes 3 anglers plus Tom.
(Click the boat photos to see larger views.)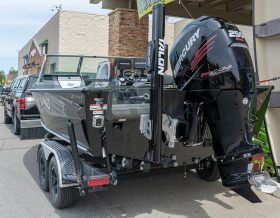 Professional Guide Since: 1976
Availability & Contact Information:
To check availability for a full day or half day guided fishing trip with Tom, please use the CHECK AVAILABILITY FORM
or you may contact him directly at:
Tom Neustrom
21622 Airport Road
Grand Rapids MN 55744
Phone: 218-259-2628
Email: tom@mnfishingconnections.com
Client Testimonial:
"If you're scouting for the Top Fishing Guide in Minnesota, your search is over. Tom Neustrom of Minnesota Fishing Connections is without a doubt the best fishing guide in the state. I've used many guide services over the years, but none are as professional and skilled as Tom. He will always show you a great time and give you a successful day on the water. I give him my highest rating!"
~Scott Studwell, Minnesota Vikings Staff