The Best Minnesota Fishing Resorts & Hotels
Eagle Nest Lodge – Anglers and their families can have it all at Eagle Nest Lodge…modern accommodations and great fishing on Lake Winnibigoshish. Located on the north shore of Cutfoot Sioux Lake this 15 cabin resort offers year round angling opportunities as well as amenities like boat, motor and pontoon rentals; gas, tackle and live bait sales; ample dock space and battery charging.
Northland Lodge – This fishing and family resort located on Lake Winnibigoshish – one of Minnesota's premier walleye fisheries – has 12 seasonal cabins and a campground with full RV hookups. Fishermen and their families have made Northland Lodge a Minnesota fishing destination since the early 1920s and appreciate modern conveniences such as boat, motor and pontoon rentals as well as gas, oil and live bait sales.
Little Winnie Resort & Campground – Located just a stone's throw from Lake Winnibigoshish, Little Winnie Resort is open year round. The resort offers families and fishermen 11 housekeeping cabins and 84 RV campsites to choose from. From the resort anglers have immediate access to outstanding fishing on Little Winnie Lake as well as boat, motor, pontoon and spear house rentals and bait, gas and tackle sales.
Williams Narrows Resort – From May through October anglers can access Lake Winnibigoshish while staying in one of their 23 modern cabins. Located on a unique peninsula on Big Cutfoot Sioux, Williams Narrows Resort has been serving fishermen and their families since 1920. The resort offers convenient amenities like boat, motor and depth finder rentals as well as gas and bait sales.
Lakewood Lodge – This family-friendly resort on renowned walleye fishery Sand Lake, part of the Bowstring Chain, is located north of Deer River and is open year round. The resort caters to anglers with 14 comfortable cabins, many of them new and offering the amenities of home. Boat/motor rental, pontoon rental, gas, oil and bait are available at the resort as well as a stocked lodge. Two new fish cleaning houses, free freezer space and boat launching is available as well.
Ruttger's Sugar Lake Lodge – This resort located 12 miles south of Grand Rapids, MN on crystal clear Sugar Lake offers anglers a variety of year round lodging choices including townhouses, lakefront rooms and lake-side cottages. Great accommodations coupled with amenities like boat, motor and pontoon rental make Ruttger's Sugar Lake Lodge an ideal Minnesota fishing destination.
Pine Grove Lodge – One of the Northland's finest stands of majestic Norway Pines slope down to a sheltered bay on Sand Lake, one of the best walleye lakes in the area.  Pine Grove Lodge is a family friendly resort with 6 cabins spaced among the pines for privacy and beauty! Open from May thru mid-October. Boat/pontoon rental,  gas, bait, dock space and boat launch are available to our guests.
Timber Lake Lodge – Grand Rapids' newest and finest full service hotel offers 84 suites with either full kitchens or mini-kitchens, large LCD TV's and high-speed internet. Hotel amenities include a water park with two water slides, mega-sized hot tub with waterfall, exercise center, arcade, restaurant and lounge, and an event center with dinner seating for up to 380 people. The hotel is located on the south side of Grand Rapids, one block off Hwy. 169.
Tamarack Lodge – This resort is situated in a protected bay on Lake Winnibigoshish and offers everything necessary for a great fishing vacation. Tamarack Lodge has 11 year round housekeeping cabins and great "angler amenities" like free boat launching, protected docks, rental boats and motors, pontoon rentals, gas, bait, and dock service.
Bowen Lodge – Begun as a fishing camp in 1930, Bowen Lodge is a modern and comfortable resort that touts its blue-ribbon fishing opportunities on the world-famous Lake Winnibigoshish. Bowen Lodge offers 15 cabins, boat and motor rental, gas, oil, bait, and boat launching facilities.
High Banks Resort – High Banks Resort has a great location on the northeast side of Lake Winnibigoshish in the heart of the Chippewa National Forest. It offers anglers 11 cabins which are open year round, a restaurant/bar and amenities like fish house rentals; boat and motor rentals; gas, oil and live bait sales; and a private boat ramp and daytime dockage.
Arcadia Lodge – Located on one of the area's top small-mouth bass fisheries, Arcadia Lodge on Big Turtle Lake near Bigfork, is open year round and caters to anglers with 21 cabins, motel rooms and reunion lodges that will sleep up to 30 people. Boat & motor rental, gas, oil and bait are available at the resort. Free freezer space and boat launching are available also.
West Wind Resort – 54719 Hwy 72 NE, Waskish, MN 56685. Phone: 218-647-8998.
Located on the Southeast Shore of Upper Red Lake, this resort offers year-round lakeside cabins and full-hookup RV sites, a protected marina with rental boats, a restaurant, full service bar, bait and tackle, fish cleaning facility, gas, propane refill and exchange, ice fishing house rentals and some of the best walleye and crappie fishing in the state.
Rogers' Campground on Upper Red Lake – 49690 Rogers Road NE, Kelliher, MN 56650.
Phone: 218-647-8262
Roger's offers year-round access to the South Shore of Upper Red Lake. In the summer they provide full-hookup RV sites and cabins and In the winter months, they provide Rental Ice Fishing Houses and plowed road access.
Wigwam Resort on Lake of the Woods – 3502 Four Mile Bay Drive NW, Baudette, MN 56623.
Phone: 800-448-9260
Tom Briggs makes guests feel welcome at this year-round resort located on Lake of the Woods where the Rainy River meets Four Mile Bay. The resort offers modern cabins and lodge rooms, full hookup RV park and camping with a shower house. The lodge houses a large lobby with a fireplace, full service dining room and 3 full service bars. You can enjoy the nightly entertainment or just relax in our screened in Cabana Bar. Charter boat service is available with experienced licensed guides.
The resorts, hotels and non-lodging businesses listed on this page are those I feel comfortable recommending to friends and family.
Flowers By Jeannie – 204 N/W 1st Ave. Grand Rapids, MN 55744. Phone 218-326-0496
Jeannie and her staff provide the very best and freshest flower arrangements in the Grand Rapids area. Jeannie takes care of all your needs, big or small, picking out the best flowers or plant for any and all occasions. Jeannie adds that special touch to all her customers that makes them happy, time and time again.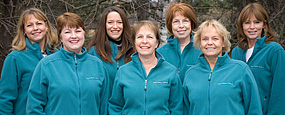 Grand Dental Center – 1015 NW 4th St,. Grand Rapids, MN 55744. Phone 218-326-0339
Dr. Lisa Johnson provides a dental care facility that is like no other in the Grand Rapids Area. With a truly professional staff that assists Dr. Johnson on a daily basis; it's no wonder that Grand Dental Center is one of the most talked about dentistry practices in the Arrowhead Region. Stop by or call to make an appointment.
Sterle Law Office – 502 NW 5th Ave., Grand Rapids, MN 55744. Phone: 218-326-9646
Attorney Chad Sterle is one of the most respected lawyers in his field, and for good reason. Chad provides all the services that you require from a top flight attorney and provides the legal advice needed to best suit your needs. Once you contact Chad, you will quickly find out why he is one of the most popular attorneys in Northern Minnesota.
Dogtooth Lake Resort – TO Box 437, Kenora, Ontario Canada T9N3X4. Phone: 807-548-5101.
Wayne and Patti Jones offer a great destination if you are in search of trophy walleyes, smallmouth bass, and northern pike. Nicknamed "The home of the 10 pound walleye," Dogtooth Lake annually produces some of the biggest walleyes caught in all of N/W Ontario. The strict policy of catch and release for the trophy of the species will ensure you'll find more than adequate amounts of smaller walleyes to catch and eat. In 15 years of visits, I have never been disappointed with the size and number of walleyes we catch at this premier destination. For the smallmouth bass enthusiast it's one of the best kept secrets in Ontario. There are bass taken every season in the 20-23 inch range – bragging rights by anyone's standards. Give Wayne or Patti a call or contact them at their web page; you won't be disappointed!